Greetings Halo fans! Before Halo came out, a game called Marathon was Bungie's signature game. Now, Halo has taken that name, but have you ever noticed the many similarities that Halo has with Marathon?
The Halo games at it's core focuses a lot of making the player fighting horde amount of enemies, with allied NPCs, and the foes you fight are usually smart. Marathon's AI did not only just follow you untill they reach death, they actually kept following you untill you are absolutely dead most of the times and sometimes they could actually flank you. This for FPS games at times was revolutionary and really rare. Weapons play a big part of comparison too. The beloved pistol from Halo: Combat Evolved is known for having great accuracy with stopping power, and last but not least, the scope. While the pistol is weaker in Marathon, it does have a scope, but you can't use it. The Assault Rifle is very inaccurate when used at mid-long range (unless you burst it or single shot it) with a good stopping power and healthy clip. Marathon's Assault Rifle is very similar and it has a grenade launcher atatched to it. However, if you burst it at mid-range, it's still very inaccurate compared to the Assault Rifles in the Halo games. The Plasma Pistol is a weapon where it's somewhat like semiautomatic SMG, but you can charge blast it which is pretty much the little brother to the Fusion Pistol from Marathon. It's very similar if you compare them together. Both Rocket Launchers are named SPNKR and the way how the player carries it is indentical together. Both games have dual-wield weapons, but Halo has a different system of this department. You can like pick up a Plasma Rifle and dual wield with a human pistol while in Marathon, it's more like you can only have the same weapons together at once.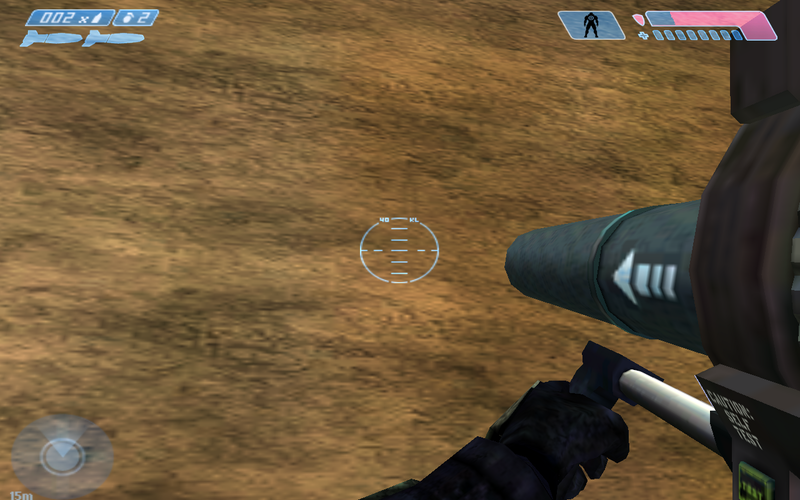 Halo Rocket Launcher
Marathon Rocket Launcher
So much for the weapons, let's talk about the enemies now. In Marathon, when you play a harder difficulty, you get higher ranks of enemies and more enemies to fight. Halo is the same thing. I can't help it that the S'pht remind me a lot like the Elites. Okay, they're not as lethal as the Elites, it's when you shoot them, their armor kind of shatters this eletronic vision which reminds me a lot like energy shields when you shoot an Elite. Hunters in Marathon don't act the same like in Halo, but they are completely related when you look at them in the pictures.
Marathon Hunter
Halo Hunter
Continuing our adventure, the Phor Fighters might not make any resemblance to the Halo enemies except the highest rank of it does. The Brute Chieftain seems to be the new brother of it. Those flying bot guys in Marathon seem to be the Sentinals in Halo although they both act very differently together. Wasps were like the Drones in Marathon, they travel in groups and they're just there to simply annoy the player. There are some more that can be compared, but this is enough information that you can see!
Now onto to the "other" section, there is this power-up in Marathon which acts like an Overshield, there's a Firefight-esque mode, some multiplayer mode from Marathon transfered to Halo, both games are story-driven, both have co-op, both are FPS, and there could be more, but my mind can't think of anything right now! As Marathon players that deeply enjoy the Halo games, will notice the many Marathon symbol that's scattered everywhere in the Halo universe.
Do you see the Marathon symbol between A and L?
Can you see it?
Do you see the Marathon symbol on the Pillar of Autumn?
Here's some more interesting stuff:
Cortana- The Marathon AI Durandal, is named after a mythical sword. Cortana is a sword which bears the inscription: My name is Cortana, of the same steel and temper as Joyeuse and Durandal.
Silent Cartographer- The center of the island is shaped like the Marathon logo.
The difficulty shields have the Marathon symbol.
AND A LOT MORE!
Well, there's the comparison between Halo and Marathon. Some people say Marathon is dead...nah, it's just living inside of Halo
. I hope you learned some interesting influences of what Marathon did with Halo.